An Introduction to Lean Construction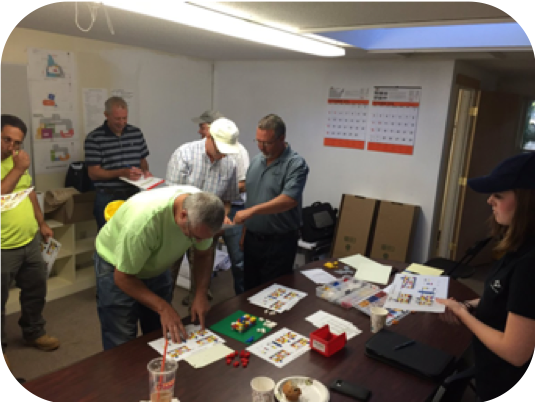 In a sector where price pressure is high, competition is intense and margins are low, General Contractors have to find ways to increase their efficiency and effectiveness. 
One part of the answer can be found in implementing Lean Construction. While Lean Construction allows General Contractors to improve their performance, other levers such as Integrated Management Systems (IMS) and Building Information Modelling (BIM) can be used to sustain and standardize improvements brought through Lean.
Lean Construction means working according to 3 key principles:
Organize processes around Right First Time On Time (RFTOT).
"Right First Time" means ensuring quality the first time work is performed in order to avoid rework and bad quality as well as implied costs. "On Time" means ensuring delivery of projects or project steps at the time expected and required by the customer in order to avoid delays that imply increased fixed costs of construction site.
Continuously eliminate Losses & Wastes (L&W).
Losses & Wastes are activities performed that have no added value in the customer's perspective. As a consequence, these are activities customers are not willing to pay for. Minimizing or eliminating these activities have a direct impact on project's margin.
Develop projects according to Voice Of Customer (VOC).
One of the main customers' criteria in the construction sector is price. However, a trend is to be observed in this sector where customers ask more and more for value proposition instead of quotations only. This trend is reinforced by the spread of DBFM projects where General Contractors take also responsibility for the Design phase. Some additional criteria might be related to planning optimisation and building methodology, for example. It is thus crucial for General Contractors to align each phase of project development to criteria defined by customers.
It is here important to understand that these principles are applicable not only to the construction phase but should be applied transversally through the organisation (from tendering or designing to completion of construction).
This transversality in Lean Construction can be translated in 5 axes to reach RFTOT, eliminate L&W and respect VOC throughout the organisation:
Fact-based & Multidisciplinary Team-based Project Selection
The tendering phase starts with the choice of the projects. This is the first step that has an impact on company's margin. General Contractors should avoid selecting projects with unmeasured risks in order to avoid situations they cannot handle financially. This is the reason why project selection should be based on facts and figures that allow companies to transparently and objectively measure and compare risks and expected projects margins. In addition, multidisciplinary teams should perform risk measurement to make sure all risks are covered and addressed by relevant experts.
Customer-oriented & Team-based Tendering
The trend exposed earlier around Voice of Customer impacts tendering at 2 levels:
Companies need to ensure that all aspects of customers' request are well understood and challenged in order to eliminate wrong inputs that might generate issues in the conception and construction phases.
Tenders require the expertise of several internal parties as customers take many criteria into account. Multidisciplinary team-based work then becomes necessary.
Partnering With Selected Subcontractors & Suppliers
As general contractors generally subcontract part of the work to subcontractors, subcontracting costs have a significant impact on projects' profitability. It is important to note that we talk here about total costs of subcontracting that include unexpected costs related to poor quality work that implies rework and delays with direct impact on projects' margins. Avoiding low performing subcontractors allows reducing overall subcontracting costs and should be done through measuring their work on relevant criteria and installing partnerships based on rewards, recognition and consequences management. Concretely, this means that high performing subcontractors get more volumes of work. Criteria used to measure subcontractors can be related to quality of work, price, safety, respect towards lead times and deadlines, etc. The same system can be applied to suppliers with adapted criteria.
Invest In Team-based Planning & Project Preparation
The main Lean tool used in planning is Last Planner System (LPS). This tool focuses on collaborative planning where responsibilities are given to people performing the work called the Last Planners. Several levels of planning compose LPS. First levels should already be addressed before the construction phase. As a consequence, it is imperative to invest time in preparing the construction phase. During this preparation phase, planning should focus on removing constraints for relevant trades in a 5 to 6 week window. Here are some examples of so-called constraints elimination:
Ensure supply of tools, machines and material in right quantities, at the right time & the right place
Ensure teams availability
Ensure plans and relevant information are provided to different trades
As preparation is related to internal work, subcontracted work and supply (tools, machines, and material), preparation should be done in teams also involving relevant subcontractors and suppliers (e.g. Site Manager, Work Supervisor, Foreman, Team Leaders of subcontractors, Purchasing, Planning, etc.)
Implement Lean In Construction Phase
Lean in construction phase means:
Installing Last Planner System in construction phase. The lower levels of LPS are used during construction phase:

Keep on eliminating constraints as explained above
Plan detailed tasks 2 weeks in advance with Last Planners
Set up daily stand-up meeting addressing following questions: What was done yesterday? Did it follow the initial planning? If not, what were the issues? How does it impact following tasks? What is the plan for today and tomorrow?
Investing time in learning sessions in order to analyse (i.e. root-cause analysis) and resolve structural issues while making sure they do not occur again. This should be done using the Deming Wheel (Plan, Do, Check, Act)
Manage quality daily to ensure Right First Time On Time. Daily stand-up meetings put in place in the framework of LPS should also be used to discuss quality. Daily meetings become short feedback control loops that allow rapidly (i.e. daily) identifying and addressing issues related to quality while making sure they do not occur again using the Deming Wheel.
Continuously improving value creating flows by eliminating or reducing wastes like movements or waiting time. For example, building a wall is a process that could be analysed and optimised to reduce its overall lead-time.
Installing 5S and resource pull for tools, machines, raw material, etc. The idea is ensuring that resources are supplied in right quantities (neither too much to avoid excessive stocks, nor too little to avoid shortage and waiting time), at the right place and at the right time. As a consequence, movements, waiting time for replenishment and needed space will be reduced
By Gilles Kartheuser, Consultant at Improof Solutions